THE HOLLIES 2020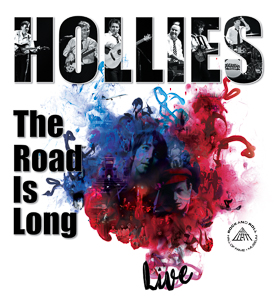 The Hollies are one of Britain's best-loved groups. Their soaring, distinctive harmonies, brilliantly crafted songs, and cultivated musicianship; coupled with The Hollies extensive back catalogue of memorable songs has ensured the longevity of one of the greatest Pop groups to emerge from the early 1960's British Rock revolution - when British Music began to shake the world.
With a track record as luminous and colossal as The Hollies', it's difficult to know where to begin. The band have released some of the best-loved pop songs ever: The Air That I Breathe, American number 1: Long Cool Woman (In A Black Dress), Bus Stop, I'm Alive, Carrie Anne, the soul-stirring He Ain't Heavy, He's My Brother... the list goes on.
From 1963 through to the mid-70's, The Hollies had 18 Top ten hits. He Ain't Heavy, He's My Brother gave them another No 1 hit when re-released in 1988. "I'm Alive" had been their first chart topper back in 1965.
Today, at the heart of The Hollies since 1963 are original members: drummer Bobby Elliott and singer, songwriter and lead guitarist, Tony Hicks.
In 1963 life in austere England was changing from black and white into technicolor. Elliott, Hicks, Allan Clarke, Eric Haydock and Graham Nash set up their two humble guitar amplifiers and drum kit in studio 3 at Abbey Road studios. The red recording light lit up and the hit-making machine known as The Hollies, leaped into life and into the unknown. Their two-way vocal sound soon developed into the trademark three-way harmony, a spread of sound that influenced so many bands that were to follow.
Nash left the group at the end of 1968 to team up with David Crosby and Stephen Stills and formed another harmony band, Crosby, Stills and Nash, but the Hollies albums and hits kept coming.
These guys have now been entertaining audiences for six decades - as always driven by Bobby Elliott's powerhouse drumming and led by Tony Hick's masterful guitar playing and distinctive singing.
The Hollies take great pride in presenting their theatre tours. No support act is needed as their stage performance can last for over two hours. Concert dates in the UK. Scandinavia, Europe, Australia and New Zealand take place on a regular basis.
The Hollies are Tony Hicks and Bobby Elliott, bassist and singer, Ray Stiles, formerly with Mud. He has been with The Hollies for 35 years. Keyboardist Ian Parker, who has worked with Clannad and Chuck Berry has been in the group for almost as long. Guitarist/singer Steve Lauri is on the frontline next to lead vocalist Peter Howarth, who both joined the band in 2004.
• The Hollies were innovators. Unusual instrumentation was often used during the production of their records at Abbey Road - including banjo, tubular bells, celeste, glockenspiel and bagpipes. 'Carrie Anne' featured genuine Jamaican steel drums.
• Friend and colleague Graham Nash left The Hollies in December 1968 to set up house with Joni Mitchell and to form super group, Crosby, Stills and Nash in Los Angeles.
• Elton John played piano on several Hollies recordings, including He Ain't Heavy, He's My Brother in 1969.
• In 1993 The Hollies were presented with coveted Ivor Novello Award for 'Outstanding Contribution to British Music'
• The Hollies were inducted into the American Rock 'n' Roll Hall of Fame in 2010 for their 'Impact on the Evolution, Development and Perpetuation of Rock and Roll'.
• The Hollies have never disbanded. They have toured the world without missing a single year from 1963 through to today.

www.hollies.co.uk

THE HOLLIES
Tony Hicks, Ray Stiles, Peter Howarth,